Index
---
Opening Ceremony
All participants, groupleaders and guests of honour are invited to come together and celebrate the conference opening at the official ISWI 2017 Opening Ceremony. We look forward to a varied programme of music, dance and arts. You will be welcomed by:
• Kumi Naidoo, the ISWI 2017 Patron
• Prof. Peter Scharff, the Ilmenau University of Technology Rector
• Babette Winter, Thuringian State Secretary for Europe and Culture
• Petra Enders Ilm-Kreis" district administrative head
• ISWI Board: Andreas Vieregg, Katharina Flinner and Benno Platte
Alternate location: Ilmenau Festival Hall

When: Saturday 13th May, 19:30 p.m. – 22:00 p.m.
Where: city park

---
Keynote Lectures
For ISWI 2017, there will be several keynote lectures highlighting certain aspects of the topic 'Global Justice'.
Kumi Naidoo- The Struggle for Global Justice in an unequal, fragmented and fragile World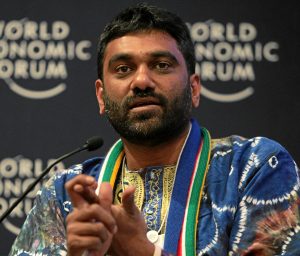 Kumi Naidoo will present his work in his NGO "Africans Rising", among other things. A central point will be the bringing together of diverse populations in Africa in order to fight corruption, inequality, climate change and poverty. His work will stand as an example and inspire practical action against inequality.
When: Saturday, 13th May, 15:00 p.m. – 17:00 p.m.
Where: Audimax
Bernard Lietaer: Economic Justice – Theory to Practice.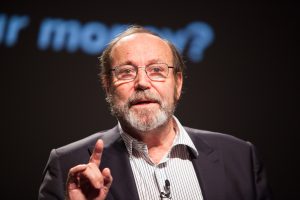 Bernard Lietaer is an expert on monetary systems. He has been Professor of International Finance at the University of Louvain in Belgium, financial advisor to several Latin American governments, Head of Organization and Electronic Data Processing at the Belgian central bank, manager of a hedge fund whose profits were used for social and ecological projects, and advisor and speaker on various alternative financial systems.
He is one of the most innovative economists in the world, recognized for his evaluation of the global financial system.
He investigates possibilities for establishing fairer and more effective monetary systems through ideas such as complementary currencies and mutual credit, among others.
Resources from the lecture:
Bancor_protocol-MAY5.pdf.pdf
Basic-Income-Smart-Token_BALMay11.pdf
Ecological-Complexity-Final.pdf
Journal-Future-Studies-final.pdf
Quantifying-Economic-Sustainability-Published-Final-pdf.pdf
When: Sunday, 14th May, 10:00 a.m. – 12:00 p.m.
Where: Audimax
Alicia Cabezudo: Education for Global Justice – Vision, Goals and Actions.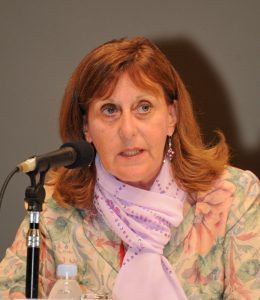 Prof. Dr. Alicia Cabezudo is a Professor for Peace Education at the National University of Rosario in Argentina, as well as being Co-Vice-President of the International Peace Bureau and coordinator of its educational activities. Furthermore, she travels the world to visit universities, pass on her knowledge and work together with other educators.
Prof. Dr. Cabezudo has dedicated her life to promoting peace and human rights through education. Her wide experience in this area allows her to assist the participants in coming up with ways to work towards the global establishment of peace and human rights in their daily lives.
When: Sunday, 14th May, 13:00 p.m. – 15:00 p.m.
Where: Audimax
Wolfgang Lucht: Earth's Future: From Planetary Boundaries to Social Transformation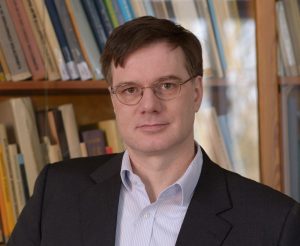 Wolfgang Lucht's research into the Earth as a complete system allows him to investigate questions of justice related to the (often unwitting) impact of people and groups of people on the environment and on people in other regions. His position as an adviser to the German government gives him an insight into the impact that government policies have on the environment as a whole, as well as the potential for each individual to create meaningful change. These are insights which he will be able to share with our participants.
When: Wednesday, 17th May, 9:00 a.m. – 11:00 a.m.
Where: Audimax
---
Exhibition Opening "Barrier:Zones"
The exhibition "Barrier:Zones", follows people whose lives have been shaped and impaired by war and conflict. Photographer Till Meyer uses photographs to share the stories of people made handicap as a consequence of social unrest, fighting to lead dignified lives. Some stories give hope, others succeed in saddening us. But they all have one thing in common, their demand for respect.
During the Exhibition Opening the photographer Till Mayer will say some introduction words. From Monday the Exhibition will be in the Humbold Building.
Time: Sunday, 14th May, 3:30 p.m.
Location: "Alte Försterei" at the Wetzlarer Platz
---
Introductory Lectures
For every working group we are organising an introductory lecture to facilitate a smoother access to the respective topic for all participants. You will find more information on the particular lectures, soon.
---
Groupleader meets Participant
Here you will meet your groupleaders and get to know the members of your group. This is a good opportunity to get to know each other and share your first impressions of Ilmenau and your journey. You can also use this time to get some important information for the week and answers to (almost) all of your questions from the groupleaders. Therefore, it is very important for you to take part in this event. Nevertheless, do not worry if your arrival is later on Saturday. You will also be able to join the group later on.
---
Group Work
Group work is the heart of ISWI. We offer 27 working groups, each dealing with a certain aspect of the main topic 'Global Justice'. There are thematic groups and art groups. Here you can find an overview on the groups. Within the group sessions you will have the possibility to share your experiences and views, discuss in detail and work towards solutions for actual and current problems. Within the application process you are asked to decide which working group you would like to join during the conference. You can state your three top preferences, but you will only be able to take part in one group, according to our capacities.
---
Fair Fair
With this event, we would like to give students and interested people the opportunity to get informed about the many and varied opportunities for social participation through associations, initiative and non-governmental associations, and to get to know them through examples, workshops and direct contact, as part of the International Student Week in Ilmenau (ISWI) 2017. In this way, we would like to point out the role and the necessity of such institutions creating an active and effective civil society and a fair global society on the one hand, and encourage participants to get themselves involved on the other hand. The cooperation as part of ISWI 2017 allows us to reach TU Ilmenau students and Ilmenau citizens as well as around 400 students from all around the world, who can share their experiences as well as gathering new ideas.
Read more about the
Event Schedule
Opening Session
Fair Fair Exhibition
'Skills and Ideas' Workshops
Feedback Lounge
here.
When: Monday, 15th May, 7:00 p.m. – 11:30 p.m.
Where: Humboldt Building
---
Panel Discussion "WWWeb of Justice?
Social media have never been as big a part of our lives as they are today. On the one hand, they play an important role in coordinating social movements and promoting political participation; on the other, they allow for surveillance and the spread of misinformation.
This discussion aims to give an overview of the opportunities and pitfalls of social media with regard to global justice. In order to present various aspects and viewpoints on the topic, we will welcome the following speakers:
• Martin Emmer, Professor for Journalism and Communication Studies with a Focus on Media Use at the Institute for Media and Communication Studies at Freie Universität Berlin
• Sebastian Stier, Ph.D. student at Heidelberg University and member of the Internet Governance Group at the Institute of Political Science
• Salah Zater, Libyan journalist and blogger
Moderation: Randall Newton, Journalist
When: Tuesday, 16th May 4:00 p.m. – 6:00 p.m.
Where: Audimax (Humboldt Building)

---
Final Presentations
Of course, there will be a final day of the conference. On that day you will have the possibility to present the results of your group work. Everyone is invited to listen to the presentations and to take part in the final discussions.
When: Friday 19th May, 3:00 p.m. – 7:00 p.m.
Where: Humboldt Building
---
Closing Ceremony
The Closing Ceremony is the last time all participants, groupleaders and all people involved in organizing the International Student Week in Ilmenau will come together. You can enjoy the presentations of the art groups. Together we will look back on a week full of discussions, lectures and celebration before everybody leaves again and takes their new ideas back home to put them into action.
After the Closing Ceremony you will have time to personally say goodbye to everyone and exchange contact details to keep in touch.
When: Friday, 19th May, 8:00 p.m. – 11:00 p.m.
Where: Audimax